Gamers get ready!
Stream games and save children with cancer. To be a part of Stream of Hope means that you support the critical research which saves children, all while doing what you love the most – streaming and playing games.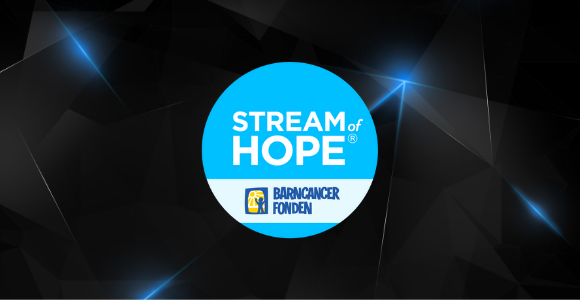 This year we up the ante by inviting everyone to join us in the fight against childhood cancer. All streamers can join Stream of Hope, it doesn't matter how many followers or viewers you have. This battle is for everyone, and together we can make a real difference for affected children and their families.
As a streamer attending Stream of Hope, you will use your own Twitch/Youtube channels for streaming on the 4-5th of March 2022. Money is raised through donations from viewers using swish or paypal. All money raised during Stream of Hope is used for critical children cancer research and to give the support needed for affected children and their families.
This year you can start your fundraising event earlier than last year! The registration opens at Oct 15th 2021 and from then, you can start to raise money to fight childhood cancer.
Start by filling out the form below and we will get back to you by mail as soon as possible. Meanwhile – join our community at Discord through the link in your registration confirmation email.

After the registration is completed, we will contact you with further information and tell you everything you need to know to set up your fundraising campaign.

Spread the word and ask your friends, family and followers to sponsor!

Download our streaming tips and starter kit to help you smash your fundraising target. You can find them here.

Start your live stream using your preferred platform like Twitch or YouTube and watch donations from your awesome supporters roll in!

Every week, we annouce the MVP (Most Valuable Player) of the week. This streamer wins a H2 headset, K4-TKL keyboard, and M4 Mice from Xtrfy. You can find more information about the MVP competition on our Discord server which you will have access to as soon as you registration is completed.
Whatever you decide to make of this day, or how much money you raise, every penny counts in the fight against childhood cancer.