William's long way back
On his fourteenth birthday, William Bossmar received the message he longed for. All cancer is gone. The journey to reach there had been long.
It's an ordinary Tuesday and William Bossmar, 14, has returned home from school. He lives in Lund together with Mom Lena and Dad Thomas. It has only been seven months since William went through a major brain surgery and 25 radiation treatments. Yet. He looks fresh. Teenage lanky. Happy. New haircut. A nice look. No gray rings below the eyes. William has his room upstairs. A drawing in the bookshelf talks about what friends think: William you are king. The dog Sibel is close to him. Throughout the treatment they have been very close.
"Sibel slept next to me when I was the sickest. It felt safe having her close. My friends, siblings and parents have also been a support during the illness.
William finds that life is now getting back to normal. By that he means that the last one and a half years has not been particularly common of his teenage life.
"I have been through quite a few treatments. But they have been effective and now it's nice to be back. I do not think the cancer has changed me. But I'm more tired. And so tired of hospitals, he states.
On his fourteenth birthday in October he received the message.
- All cancer is gone and I was discharged from the child oncology clinic. The oncologist gave me a huge sudoku. He thought it was good practice. For me, the message was expected. I have received so much treatment that I had been surprised if it had not helped, he says.
But Lena and Thomas were nervous befor the visit.
"It was a fantastic feeling when we found out that all the tumor was gone," says Lena.
It was a good day.
"The best part is that it's over now and that I can train indoor hockey again. Immediately after surgery, it was hard to imagine that I would be able to, says William.
August 2013. Doha, Qatar.
The Bossmar family moved from Lund to Doha in Qatar in August 2013. Thomas, a physician, was given the opportunity to work as a surgeon at a state hospital in Doha and took it. He works with female cancer patients. The family rented out their house in Lund to students and William started seventh grade at an American school. Moving to a new country was exciting.
- I enjoyed it. It was a good school with better discipline. Not as relaxed as it may be here sometimes, says William and laughs.
During a trip with the family, William suddenly began to drink very large amounts. He drank, he peed, drank more, peed. And that kept on. William was investigated and it was found that he had suffered from diabetes Insipidus. A disease caused by pituitary hormone deficiency. To exclude other diagnoses, a MRI-scan was also done.
- It showed that there were two tumors in my brain. I do not remember what I thought but I was probably a little surprised. Of course it is not good to have tumors in the brain. If I had not received the second disease, how long could I have walked with them then?
Williams brain tumors was located between the cerebellum and the pituitary gland. A bit above the neck.
"We decided to move home to Lund again and continue the investigation. The disease was a shock. I, who work with cancer, know that everyone can get it. But you do not think your own child would get it, "says Thomas.
The family lived with friends - as the house was rented out.
- It was actually very good. We received a lot of support and consideration, says Lena.
After a period of investigations, William received the diagnosis germinom. This was in January 2014. This type of cancer is very rare but sensitive to cytostatics, and it was decided that treatment should begin.
February 2014. Lund.
To the hospital where William will start his cytostatics treatment, it only takes ten minutes. It is nice and practical that it is close to the clinic for childhood cancer. Today, William will receive a cytotoxic regime via drop. Slowly, the cytostatics drops and the aim is for the tumor to shrink and preferably disappear.
"I'm feeling sick and having a hard time eating when I get chemotherapy. But that is because it's very toxic. All I can imagine is to eat burgers from a special place. I'll do that when I'm done, he says.
After the treatment, William goes to school and tries to keep up with playing indoor hockey. The sport and the friends in the Lugi team are important part of his life.
"My energy is not right there, but I'm trying to participate and to do the best I can," says William.
At home it's the couch that's the to-go-place. William is tired and wants to watch movies or play something on the computer. Next to him is Sibel with her brown eyes and long ears.
- She helps me get well. If we do not lie here, I usually go out with her, says William.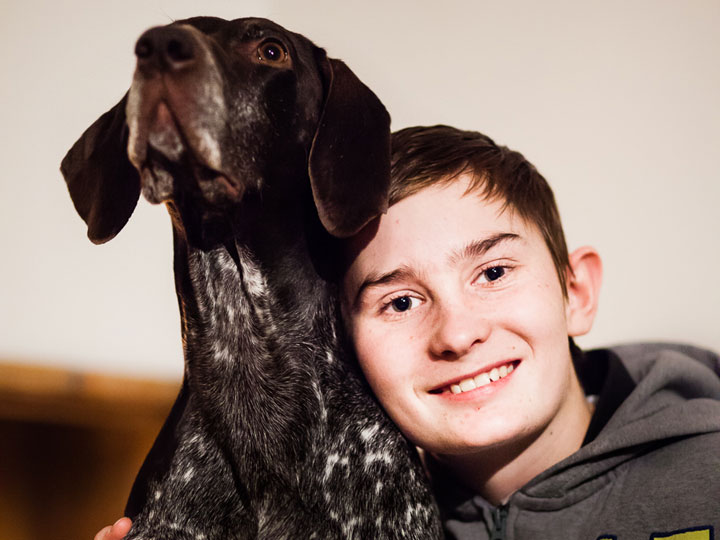 After a number of cytotoxic regimes, doctors want a new magnetron examination to see if the tumors have responded to the treatment. The result is not as positive as you have thought. One tumor has responded well, but the other has not responded at all. Surgery can work and William sets himself up for surgery. The goal is for him to be operated in early May, but it will be postponed several times.
- My blood values ​​are too bad and we have to wait.
But then comes the message from neurosurgeon Peter Siesjö and his colleagues. Williams tumors are going to be removed. It will be on a Wednesday in May.
May 20th. University Hospital in Lund.
It is the night before surgery. William has come to the hospital to take the final samples and is prepared for his brain surgery. He wants to turn the clock forward, get the time to move ahead. Go faster. The hair, which remains after the cytostatics, sits in small spots on the head. It will be shave off tomorrow.
- The worst thing is to be here. I want to be at home. This is really dull, he says, looking into the white-gray room.
Lena is pale. And seems tired.
- It's nice to get it done tomorrow. It's a big deal, a lot can happen. I think that it will be fine.
Thomas is tens and admits that he may seek cover behind his medical role.
"It's an advantage to be a doctor, I understand and have knowledge of what's going to happen. I can distance myself a bit. But at the same time ... This is the worst I've experienced.
William will not sleep in the hospital overnight. He wants to go home to his own bed. And eat pizza for dinner.
Are you afraid of William?
He gets silent.
- Well, actually not. I'm not even nervous. I know the doctors can do their thing. I just want to get it done.
William speaks quite a lot. He laughs and fools around. But everyone knows. Tomorrow is an important day. It's time to say good bye. The spring night outside the hospital is the lukewarm.
May 21. Neurosurgery, Lund.
The time is half past seven. It is relatively empty in the entrance to Lund University Hospital, where neurosurgeon Peter Siesjö and colleague Gunnar Gunnarsson, technology manager, are waiting for a wooden bench. They take us to the ward where the surgery will take place. The family can not see us before William will be sedated. Afterwards, we are told that they both were there when the drug takes William beyond alertness and pain. Lena and Thomas say that the moment when William is sedated was one of the worst times in their lives.
- To leave your child like that ... The sedation went very fast but I cracked. I know the anesthesiologist very well and I know he is in good hands. But to see William lying there ... it was very difficult, says Thomas.
It's a crisis for everyone, says Peter Siesjö. The operation has some challenges. Important blood vessels and nerves to be avoided, the channel where Peter enters is narrow. He will work both sideways and upp and down. The cerebellum must be kept away.
- I do not know what one of the tumor is. It has not responded to cytostatics. The other one has responded well but there is a little left. I know when I open and take it for analysis, he states.
William is alone in the bunk bed. A hand full of needles and hoses sticks out from under the blanket. The tumors are in the neck. A navigation system shows where Peter is going to cut. You clean and make an anesthetic.
"The brain has no feelings, but you might feel it in bones and membranes," explains Peter Siesjö.
The local anesthesia kick in and the instruments are on a green cloth. Peter puts the cut and operates concentrated and quiet. He burns and cuts away the tumor. After an hour it is removed.
- It seems to be a benign teratomy. A tumor formed in the fetus and which may contain fat and hair. I can not remove the other one. The brain tissue behind it has collapsed and it is too narrow. It is too risky and we must stop here, he says.
A nurse checks that William is doing well under the cover. Peter calls Lena and Thomas.
- Lena, I have good news. It is quite obvious that it is a benign tumor. William is to be woken up. Then you will meet him.
Outside the neurosurgeon, right next to the lifts, Lena and Thomas sit. The eyes are red-edged. I say that their son looked very nice where he was laying. They laugh.
- I have been at home and worked in the garden. Waiting here was impossible. It was a relief when Peter called. Now I long to meet William, says Lena.
- The message that the other tumor was benign is a good first message. But the analysis must show what it is, says Thomas.
In the afternoon, William has come to an intensive care department. He is awake but feels terribly bad. He sees double, are in pain, wrestles and has difficulty saying words. Thomas is tired, he wants it to be fine, but realize that only time will tell how it goes.
"We do not know what to expect and it's a horror. I have experienced a feeling of the deepest fear that is mixed with joy that he is awake, that he can move his arms and legs. Now time will tell, he says before we part in the corridor.
In the ward, William waits. He let's us know that he can not speak to us right now. Ahead of him, he has many hard days and nights. The double vision remain, but after a few days William can stand up with the help of mom and dad. After just two weeks at the hospital, William will get's to go home.
June and July 2014, radiation therapy, Lund University Hospital.
It's summer vacation and soon midsummer's eve. William has recovered quite well, but the double vision remains. Several doctors have investigated him and tried to overcome the problem. During a few weeks William uses a patch to cover the eye. But it does not help. The double vision is still there and William has a headache.
"I've been really bad. I didn't have any energy to do anyting. Mostly i just slept".
But the family was on a student attendance.
"It was fun to attend a student party for a while. To be a bit normal and not think about cancer, says William.
The remains that are left in Williams's brain will the radiation chase away. He will receive 25 treatments at the radiation treatment unit at the University Hospital in Lund. We meet William in mid July - on his second from last treatment. It is hot. The summer has really made an apperance and instead of going to the beach with friends, William cycles to the hospital with Lena and Thomas. In the waiting room, which is light and airy, children, young and elderly await. William has his time just before lunch. A nurse and a hospital physician helps William in the treatment room. Mom and dad are waiting outside. They secure a radiation mask.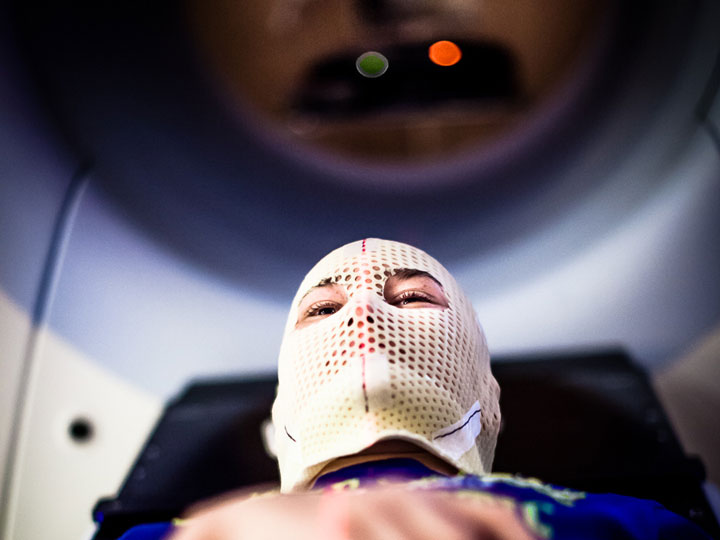 "I have to be completely still. The radiation itself I do not feel at all, explains William.
The atmosphere is calm even if it is a bit of an assembly band. William is listening to his favorite music.
- I am not afraid. Having the mask feels okay. But I'm not claustrophobic either.
It's over in a few minutes.
"Now I am very tired and want to sleep," says William.
December 2014, home in Lund.
William is home. It is seven months since he had his operation and just over five since he received the last radiation. He feels good but has lost weight and muscles. He has impaired hearing in one of the ears, but it is not something he himself notice. The eyes are dry. Nobody knows if other things in his body have been damaged.
"I do not think what I've been through. It feels quite remote, he states. I think I'm fine.
He is pouring pasta and ham on his plate. In an hour he will be at his indoor hockey training. Immediately after surgery, he could not train. Now he can play indoor hockey twice a week and is glad to be back.
- I am a goalkeeper. It's a better fit as I do not yet really have the physical strength required to be field player. But dad and I will start running together. I think he needs it more than I, "said William with a laugh.
The pasta slaps down. Several glasses of milk too. During an unattended moment, Sibel snatches the remains of the ham.
- You cheeky dog! Now you will become thirsty and have a stomach ache.
Sibel just looks at him. William puts his training bag on his shoulder and cycles to the sports venue where the team is waiting. Lena comes along to watch and informs that William always is making progress.
"It's wonderful to see," she says.
The sound of swinging indoor hockey clubs and balls that hit the net in the sports hall at Vipeholms School. Quick steps on the green floor. The coaches Fredrik Ekelund and Christer Sölve are looking at the guys in the team. They run, rush, do push ups and situps. William is as strong as his friends. He takes place in the goal. The team is going to do an exercise that the teammates will shoot balls against him as Christer calls a number. William takes almost everyone. He is fast and has a huge reaction ability, certifying the coaches.
"Don't be lazy, come on now, Fredrik urges. Go from side to side. Come on now!
- I still suffer from double vision. From the beginning it was difficult to know which ball was the right one. But now I've learned, says William.
His coach tells us that William in the last few weeks has become much better and faster.
"We see that it goes forward on every training. It's really fun that he's back again. His contribution to the team is important. Many have been influenced by what William has gone through. The fact that a young person is affected by cancer is unreal. We are pleased that it has been good, says Peter Hedberg, also he a coach for the team.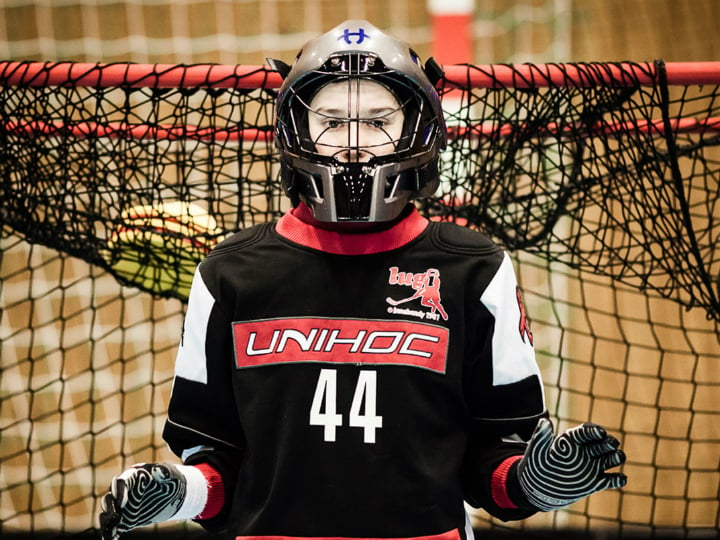 It's school day. William goes in eight grade at the Tunaskolan. It is close to home, cycling here takes max a quarter of an hour. There are 30 students in the class and quite loud. William had extra help at the beginning of the autumn term, he missed a lot during the last term. But now he can do without extra support. He chose to remove a language course from his curriculum and instead focus on the other subjects. He attends the whole school day and it goes well. He has high grades.
Today, there are several things on the schedule: tests in history, making a speech to be performed for the others in class, social sciences and craftiness. William leans down over his computer and writes. He quickly searches information on the internet. Sometimes he yawn and rubs his eyes. For a person who has had a brain tumor, the school can be more difficult than for fully healthy. One can suffer from brain fatigue, concentration problems and learning and memory difficulties. But William thinks it's going well and does not recognize himself as suffering from those problems.
"I can not say that it is more difficult now than before the cancer. I get tired, but then I usually go out of the classroom for a while. Previously, I wanted to work in field of carekeeping. But after all that has happened, I am tired of carekeeping. We'll see what it's going to be, "he says.
He concentrates and talks with friend Tom Hagander.
"I'm glad William is back. I felt sorry for him when he got sick and when he had to go through everything he had done. We play in the same team and live close to each other. I think William is like before.
Bardha Bajram is the class' and William's mentor. She remembers the message of Williams's brain tumor.
- I thought "hope he survives and that it goes well". We visited him at the hospital and kept in touch via email and text. A nurse was here and talked about Williams disease. Everyone in the class listened and asked questions. It was tough when there were questions about death. But even those one she responded to. William was there. In October we were told that everything was gone. It was a big relief, she says.
It's time for lunch. William and Tom goes to the busy canteen where lunch is served on plastic plates and it takes eight minutes to eat.
After almost two years, the Bossmar family is on the right side of the disease.
All cancer is gone and William thinks he's healthy and feels good. He wants to think forward and do not think too much of what he has been through or that he has had a fatal disease.
"I'm not thinking about it, but I'll be on regular check-ups for many years.
The brain and different hormones will be checked, but doctors should also keep a close eye on whether other organs in the body may have been injured by the treatment or the disease. For people who have had a brain tumor, complications may occur after many years. In Williams's case, the greatest risk is that he may suffer from a lack of pituitary hormones. It is due to the radiation he has received in the area where the pituitary gland is located. If there is a shortage, William will receive medication.
- Sometimes I think it may come back. But right now, I expect to be healthy and so. I think it's smart to try to think positively. I want to look forward and have a plan. I think it's very nice it's over. More than that, I do not think, says William.